All Community Events for October 2021
TypeDB Community Webinar - Open-Source Project TypeDB Units
October 12, 2021 @ 17:30 London Time
Description:
The TypeDB Units community project is an open-source library for describing quantities with units of measure for applications in physics, engineering, simulation, and much more. TypeDB Units will come with a schema and data to support the most common use cases: SI units, prefixes, and unit conversion.
We're also planning advanced features including:
dimensional analysis,
quantities with tolerances, and
extensions for application-specific units
Hear from the incubating group of TypeDB community members:
Brett Forbes
Braden Eliason
Summary

2021-10-12T16:30:00Z → 2021-10-12T17:30:00Z
Strongly Typed Data for Machine Learning
October 13, 2021 @ 17:30 London Time
Description
Heterogenous data holds significant inherent context. We would like our machine learning models to understand this context, and utilise this ancilliary but critical information to improve the accuracy and versatility of our models.
How can we systematically make use of context in Machine Learning?
We delve in and investigate the knowledge modelling techniques, which applied with the right ML strategies, give us a promising approach for robustly handling heterogeneous data in large knowledge models. We aim to do this in a way that allows us to build any Machine Learning models, including graph learning models like our KGCN.
Speaker:
James Fletcher
James comes from a background of Computer Vision, specializing in automated diagnostics. He is now the Principal Scientist at TypeDB. His mission is to demonstrate to the world how traditional symbolic approaches to AI, built-in to TypeDB, can be combined with present-day research in machine learning.
To this end, he manages Vaticle's centre of research projects, KGLIB. This library has two purposes: to facilitate building advanced intelligent systems atop of a Knowledge Graph, and to inspire the Vaticle community with new approaches of doing so.
Summary

2021-10-13T16:30:00Z → 2021-10-13T17:30:00Z
TypeDB Community Webinar - NodeLab, TypeDB Visualiser
October 19, 2021 @ 17:30 London Time
Description
NodeLab: An Advanced TypeDB GUIThere have been murmurs in the community about how cool it would be to have a full-featured graphical interface to TypeDB. This project aims to put TypeDB's intuitive knowledge representation and high-powered queries at the disposal of life scientists, investigative journalists, and other researchers for good.
While many existing tools visualize and analyse networks, few are at once (1) affordable (2) interactive and intuitive (3) powerful and general-purpose. NodeLab aims to be intuitive and fun to use while being amply tooled for engineers and researchers alike.
NodeLab is simply an interface to TypeDB, adding value alongside a growing number of open-source databases.
Speaker:
Jon Thompson
Summary

2021-10-19T16:30:00Z → 2021-10-19T17:30:00Z
Introduction to TypeDB and TypeQL
Our monthly TypeDB Community check-in
Description
Intelligent systems process data that is far too complex for current databases. They require an expressive data model and an intelligent query language in order to tackle a higher order of complexity in data and knowledge.
Join Tomás and Daniel from the Vaticle team where we discuss the origins of TypeDB, the impetus for inventing a new query language, TypeQL and why we are so excited about the future of software and intelligent systems.
Each session will start with a community update and then our presentation. At the end, we open up the "floor" [read: zoom mic] and hear from you all, about:
Questions
Ideas
Feedback
Current projects
Anything that you'd like to share with the community
Watch On-Demand: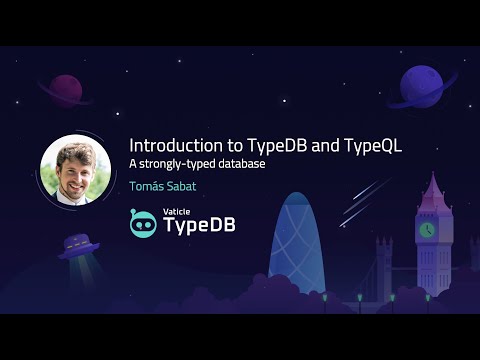 Summary

2021-10-28T16:30:00Z → 2021-10-28T17:30:00Z
TypeDB Community Webinar - TypeDB Schema and Query Generation using Boston/FactEngine and Object-Role Modelling
Description
This talk will present automatic TypeDB schema generation, natural language queries over TypeDB and schema visualisation as an Object-Role Model, Entity Relationship Diagram and Property Graph Schema.
The Boston/FactEngine database productivity products are demonstrated over the TypeDB database engine.
Topics include:
Natural language queries over a rule/inference-based schema and semantic modelling for TypeDB.
Knowledge graphs containing semantic information require the best tools to quickly find information and to visualise the schema in a graphical and textual form.
Boston and FactEngine exploit the basis of hypergraph technology to offer a solution to visualising and understanding schema and data within a TypeDB database implementation.
Speaker:
Victor Morgante
Victor is an industry veteran with a reputation for solving large and intractable problems. Victor is passionate about product development, solution architecture and data science. With over 25 years of experience in Fact-Based Modelling/Object-Role Modeling, Victor brings this experience to knowledge graphs and hypergraph solutions like TypeDB. Victor's current area of research and development spans knowledge-based expert systems and natural language query processing.
Summary

2021-10-26T16:30:00Z → 2021-10-26T17:30:00Z
IBM Devs on Transparent Supply Chains and Vaticle Devs on Native Inference | Live in London
October 14, 2021 @ 18:30 London Time
Description
It has been almost 2 years since we were able to have the TypeDB community gather in person and while many around the world are still dealing with the pandemic and unable to meet, we hope that soon we will be able to see you all live in your local cities.
For now, we are rolling out a hybrid event in London, livestreamed for the global community so you don't miss a thing. Here's what's going down:
IBM on Using TypeDB for a More Transparent Supply Chain
"Join Dixit and Michael to hear how IBM worked with a major CPG company to use TypeDB to help them build transparency of their supply chain and increase sustainability risk identification and target investigations. Their work focused on the palm oil supply chain and being able to infer different forced labour risk types and levels using the inference capabilities of TypeDB."
Joshua Send from Vaticle's Engineering Team on Native Inferencing in TypeDB
"Did you know TypeDB contains not one, but two distinct inference engines? We'll talk about the problems of type inference and rule inference, some approaches to solving them, and how you benefit!"
2021-10-14T17:30:00Z → 2021-10-14T19:00:00Z